Major Fly Fishing Influencers in History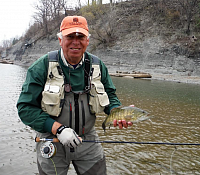 Lake Erie Smallmouth
Major Fly Fishing Contributors
The sport of Fly Fishing has a rich historical heritage. Below are a few of the famous names in this sport that have influenced both myself and my students throughout the years. Google their names for more information. Their contributions to the sport should never be forgotten. 
Take a casual and relaxing trip down a historical "rabbit hole" of information as you explore each individual. Keep in mind that many were associates or knew each other at the time; may have belonged to the same fly fishing club; or, ran in the same social network of fly fishing pioneers.
To learn more about the history of fly fishing, here's a Wikipedia link that you may enjoy: Fly Fishing 
In more modern times, enter the following names into YouTube for an interesting path of discovery and individual contributions.
Near the origins of American fly fishing, the Catskill Fly Fishing Center and Museum (located in Upstate New York near Livingston Manor and Willowemoc Creek) has formally recognized many deserving individuals. Take a look at "The Fly Fishing Hall of Fame" listed online at https://cffcm.com/fly-fishing-hall-of-fame 
Ken

Ken Louko Fly Fishing
Early Pioneers
Dame Juliana Berners (1496) A Treatise of Fysshynge with An Angle (PDF) 

Izaak Walton (1593–1683)  Author of The Compleat Angler
Frederick Halford  (1844-1914)  Most noted for his development and promotion of the dry fly technique on British trout streams.
Theodore Gordon  (1854-1914). Author and often called the "father of the American school of dry fly fishing".

Charles F. Orvis  (1856)  Founded Orvis in Manchester, VT.

George E. M. Skues  (1858-1949)  Author and fly fisherman most noted for the invention of modern day nymph fishing.
The Fly Fishers' Club (1884)  The Flyfishers' Club is a gentlemen's club in London which was founded in 1884 for enthusiasts of flyfishing.
Mary Orvis Marbury (1892)  Authored "Favorite Flies and Their Histories".
Major 20th & 21st Century Influencers
Roderick Haig-Brown  (1908-1976)  Renown author and conservationist.

Hans Gebetsroither  (1930's to 1986) Father of the elliptical casting style that became known as the Gebetsroither Style (or Austrian Style) in Europe. Now known in the United States as the Belgian Cast though he was Austrian.

Joe Humphreys

Stu Apte
Joe Brooks
Mel Krieger
Ed Shenk
Doug Swisher
Carl Richards
Jack Gartside
John Randolph
Art Lee
Francis Betters
Dave Whitlock
George Griffith
Lou Tabory
Al Caucci
Bob Nastasi
Zane Grey
Jim Payne
Hiram Lewis Leonard
Mary Dette
James Leisenring
Gary LaFontaine
Bob Jacklin
Stanley Bogdan
Ernest G. Schwiebert
Eric Leiser
Bernard "Lefty" Kreh
Poul Jorgensen
Vincent C. Marinaro
George W. Harvey
Lee Wulff
Joan Salvato Wulff
Charles K. Fox
Albert J. McClane
Walt & Winnie Dette
Harry & Elsie Darby
Leon Chandler
Art Flick
Sylvester Nemes
More Recent Major American Influencers
Tom Rosenbauer
Flip Pallot
Bob Clouser
Bob Popovics

Dan Blanton
Kelly Galloup
Blane Chocklett
Landon Mayer
Nick Lyons

George Daniel
Devin Olsen

Henry Cowen
Tim Rajeff
Steve Rajeff
Dominick Swentosky
Two Handed Spey Casting & Fishing
Goran Andersson  (Father of Underhand Casting - from Sweden)
Andrew Toft  (World champion two handed caster from Scotland)
Ian Gordon  (International salmon guide and recognized as one of the world's best two handed casting instructors)
John & Amy Hazel  (John Hazel was first to introduce two handed casting in the U.S. He and Amy own Deschutes Angler Fly Shop, Maupin, OR.)
Simon Gawesworth  (Perhaps the best two handed instructor in the U.S. Works for Far Bank Enterprises. Originally from England.)
Tom Larimer  (Premier fly line designer for Airflo, steelhead guide, and instructor)
April Vokey  (First class caster and instructor especially with long belly lines. Grew up in British Columbia.)
Ed Ward  (Co-developer of M.O.W. Tips - the brainchild of Mike McCune, Scott O'Donnell and Ed Ward. Founding member of OPST).
Scott Howell  (Co-developed the Intruder fly with Ed Ward and Jerry French. He also developed the highly effective Squidro series of flies.)
George Cook  (Legendary Northwest Regional Sales Manager for some of the most respected brands including Sage. He has been at the forefront of modern spey fishing chasing steelhead, salmon, and dolly varden.)