Fly Fishing School in Upstate New York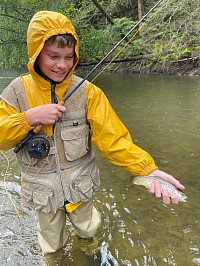 NYS Wild Brown Trout
NYS Finger Lakes Region
During the Spring (April/May) and Summer months (July/August), Ken Louko offers fly fishing school classes in Upstate NY. The location is just south of Ithaca, home to Cornell University and Ithaca College. This is the Finger Lakes Region of New York State which also has a wide variety of great wineries along both Seneca and Cayuga Lakes.
Visit the Bio tab for more information about me.

Fly Fishing School in the Finger Lakes Region
Fly Fishing School classes are conducted in a beautiful country setting at my private residence in Spencer, NY. On-water instruction allows fly fishing for both trout and bass in local waters. Spring classes have the option of chasing Landlocked Salmon and Lake Trout in the Ithaca area for on-water instruction sessions.
All instruction is scheduled by appointment only! 

Call or text to schedule your class.
Fly Fishing School classes are highly personalized, one-on-one (or small group) instruction. 

If you have ever wanted to take up the sport of fly fishing but didn't know who to contact while in this area of Upstate NY, this is your opportunity. The small village of Spencer is located only 18 miles south of Ithaca (the southern end of Cayuga Lake).  From Spencer, you can easily travel in all directions whether going to Ithaca, Watkins Glen, Elmira (be sure to visit the grave site of Mark Twain), or Owego and Binghamton. All are 45 minutes or less from Spencer.
A variety of fly fishing opportunities exist in the Finger Lakes area primarily for Brown Trout in seldom fished waters; plus, Largemouth Bass in a number of local farm ponds during the summer months. Cayuga Lake Landlocked Salmon and Lake Trout are target species in the Spring and Fall. A great early Spring Rainbow spawning run takes place in the tributaries of both Cayuga and Seneca Lake. Smallmouth Bass populate the Susquehanna River only 25 minutes to the south of Spencer. A little further away to the East, you will find the legendary trout waters of the Beaverkill and the West Branch of the Delaware.
In September, there is a good run of both King and Coho Salmon in the Salmon River at Pulaski, NY (just north of Syracuse) where anglers use both single-hand and two-handed fly rods. A few Steelhead also start the same run along with the Salmon though they peak during the months of October and November.
The Finger Lakes Region is really beautiful during the summer months! A wide variety of activities are available including NASCAR at Watkins Glen, winery tours galore, great restaurants along the Finger Lakes and in the Ithaca area; plus, local festivals and fairs throughout the summer. Mix it up a little, and you will have a great time enjoying the Finger Lakes region at it's finest!
Ken Louko
SCHEDULE YOUR SPRING or SUMMER FLY FISHING CLASS TODAY.  Contact me
Class Instruction Payment Options
Class instruction sessions can be paid via the following methods:

     Via PayPal at... PayPal.Me/kenlouko  (Add 3% to Total if using PayPal)
     Or, by check made out to "Ken Louko"
     Or, Cash payment