Follow a Learning Path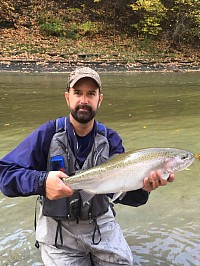 Steelhead
Structure your approach when learning how to fly fish
The VERY FIRST Step to undertake when deciding to take up the sport of fly fishing is to follow a "Learning Path" with a qualified instructor.

Learning to Fly Fish can be viewed as being either Simple or Complex. Amazingly, the more that you learn about the complexities of fly fishing, the more simple it becomes! It's kind of like riding a bike for the first time. Before you know it, you're peddling your way down the road in a perfectly upright and balanced position, traveling at your own desired pace.
Stage 1...  Learn to Cast
The First Stage is found in our "Basic Skills" beginner classes or casting-only classes. Casting is a skill that you can totally control by becoming good at it. Classes will focus on mastering all the major single hand rod casts including the Pick up and Lay Down cast, Side Arm and Back Hand casts, Roll Cast, Reach Cast, and the Belgian (Elliptical) Cast. Two Handed casting classes will concentrate on the four major Spey-style casts as well as the fundamentals of using two hands rather than one.
------------------------------------- 
Stage 2...  Fly Selection, Leader Set-Up, and Line Selection
The Second Stage, sometimes referred to as the "Preparation Stage", is found in our "Basic Skills" beginner classes or casting-only classes.
Most people start out with a Single Hand rod to learn basic casting skills and want to pursue fly fishing for Rainbow or Brown trout. In general, the larger the species, the greater the weight rod required whether fishing in coldwater, warmwater, or saltwater. Line choices, Leader Set-Ups, and Fly Selection choices follow the rod type, rod weight and species pursued.
The industry standards are different between Single Hand rods and Two Handed rods. Two handed rods support certain grain weight ranges for lines and heads to properly load the rod. These make a big difference in the choice of lines, heads, and even rods that are appropriate for a particular fishing situation.
-------------------------------------
Stage 3...  Presentation (Depth and Speed + Fly Behavior)
The Third Stage is the final stage where everything comes together on the water. The ability to "read the water" is a critical element. Proficient Casting (Stage 1) skills sets you up so that you can make descent fly "Presentations" in Stage 3.
--------------------------------------
--------------------------------------