Instruction Locations - North Georgia and the Finger Lakes Region of Upstate NY
Where do instruction classes take place?
Successful fly presentation requires initial Basic Skills Instruction as a foundation.

Basic Skills - Half Day Instruction (in the Atlanta area) is primarily conducted on dry land in a park setting and is a true outdoor experience. Fly casting is a foundation building block that gets you 1/3 of the way along to becoming a successful fly angler whether in rivers, streams, ponds, lakes (like Lake Sidney Lanier), or even saltwater if you want to fly fish for species such as Redfish, Bonefish, Sea Trout, and Permit.

The location for Metro Atlanta clients is along the Chattahoochee River north of I-285. There's plenty of casting room and the river is a stroll away from the parking area. The park has great bathrooms and eateries are located nearby. Directions where to meet initially will be emailed following a class reservation.

Full Day Instruction classes begin on dry land and extends to practicing your real world on-water fly presentation skills.
Predator School classes take place on Georgia's Lake Lanier or in the Finger Lakes Region of Upstate New York.

Instruction on Lake Lanier
Lake Sidney Lanier is also an instruction location. Beautiful scenery either overlooking the lake from one of the many park locations; or, on the lake from a bay/flats boat while chasing Stripers and Spotted Bass near Cumming, GA (Cumming is located on the west side of the lake about 35 minutes due north of Atlanta).

For saltwater anglers, becoming familiar with a flats boat before you go on a saltwater trip (especially if you have never been on one) can be done right here in North Georgia.
Upstate NY Fly Fishing School
During the Spring (late April - May) and for two months during the Summer, Fly Fishing School classes are offered in the Finger Lakes Region of Upstate New York in the Ithaca area. This region is known for not only their wines but also for easy access to great fly fishing opportunities for Brown trout, Largemouth bass, Smallmouth bass, Finger Lakes Landlocked Salmon, Steelhead in the Great Lakes tributaries, and Salmon (Kings & Cohoes) in the Salmon River area located just north of Syracuse. Even the fabled Catskills fly fishing waters are only a little over an hour away.
Quick Link to Instruction Rates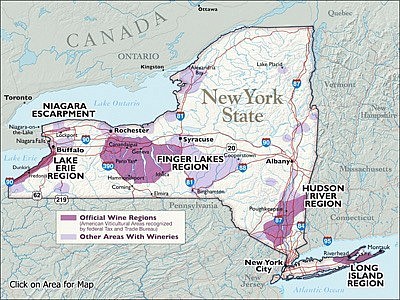 Finger Lakes Region of NYS