Gift Certificates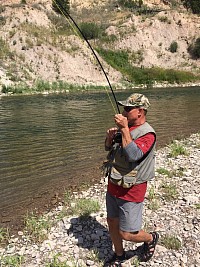 Surprise someone with a Gift Certificate!
Holiday or special occasion gift certificates are available on a year around basis.
The process to acquire a gift certificate is as follows:
1) Select the fly fishing instruction session, guided trip, or personal mentoring package that you desire.
2) Send an email to request a gift certificate clearly defining the desired course, trip, or mentoring package; plus,  "to whom" you want the gift certificate to be made out to as recipient; and, your contact information.
3) A gift certificate will be prepared and emailed to you for printing and delivery. In the event that you are unable to print the gift certificate, the gift certificate can be printed and mailed to you via the U.S. Postal Service. Be sure to include either your email address or mailing address. Emailing the gift certificate to you is a much quicker avenue to take.
4) Payment needs to take place for the full value of the gift certificate either by check or PayPal. Instructions will be communicated to you for payment by U.S. Mail. You can submit payment using PayPal via the following address:    PayPal.Me/kenlouko (Add 3% if using PayPal)
5) All gift certificates must be redeemed within a six (6) month timeframe. Should the time period include the summer months, the gift certificate will be extended into the Fall starting in September.
6) To redeem a gift certificate, the individual receiving the certificate just needs to contact us to arrange a desired date and time. All dates are custom scheduled.
Any additional questions should be directed to Ken Louko via email, text, or phone call. Please visit the "Contact Information Page".