Spey Casting Instruction
Bringing more ease and joy to fly fishing
We introduce students to Spey casting using a Level 1 through Level 4 approach starting with a Single Hand rod in Level 1. Using a Level 1 through Level 4 approach as described below, we migrate to a Trout Spey rod in Level 2, and then on to heavier weight rods in Level 3 and 4 based on the student's desire to pursue larger species of fish and "bigger" water. There isn't any reason for our students to be intimidated initially by using a very heavy "stick" -- especially since most anglers will not find much use for heavy weight Two Handed Spey rods in the Southeast.
Level 1    Single Hand Spey 
                 (Use your current fly rod)
                 (5, 6, or 7 wt. rods)
Introduction to Spey casting. Perfect for pursuing Chattahoochee River, North Georgia, and other Southeastern trout. Also features the OPST Skagit SMOOTH line (if you just LOVE to fish with soft hackles, streamers and Woolly Buggers). And... still be able to fly fish with dry flies, nymphs, or Dry-Dropper rigs.
Level 2    Introduction to Trout Spey 
                 (#2-#4 wt. two handed rods)
Lightweight Spey rods for Georgia and Southeastern trout waters; or, anywhere for that matter!
Level 3    Spey casting with Switch rods
                 (#5-#7 wt. rods up to 11'-9")
Target larger species of fish such as Chattahoochee River Stripers and Great Lakes Steelhead with either Scandi or Skagit setups.
Level 4   Spey Casting with Short Speys
                (#6-#8 wt. rods)
                (12' to 13' modern Spey rods)
Two Handed casting for those who pursue Steelhead and Salmon in the Northwest, Alaska, and other world waters.
Using Single Hand rods and an OPST Commando SMOOTH line, some Spey casters may never want to migrate to a Two Handed rod simply because they are having so much fun. Others want to give a Trout Spey rod a try and decide later whether or not to move on to heavier weight Two Handed rods. Usually this migration is fish species driven.
Casting with a Two-Handed Rod utilizes a "longer lever" and the power of the "D-Loop" to load the rod and deliver the fly with a forward cast. It also adds another element to the cast and that is... using two hands on the rod rather than only one. 
Two-Handed Rods are used primarily in rivers with moving water to pursue Trout, Bass, Steelhead, and Salmon. Originating in Scotland on the Spey River, two-handed rods are commonly referred to in the United States as Spey rods. A shorter variant is called a Switch Rod. Switch Rods normally do not exceed 11"-9" in length. Trout Spey rods are lightweight Switch rods designed to pursue trout and other species such as Smallmouth Bass.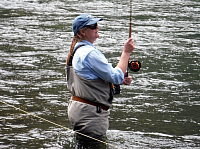 Amy Hazel, Deschutes Anglers, casting a Two Handed Rod
A Spey Cast is a dynamic roll cast...
A Spey cast is a dynamic roll cast with a change of direction; and, it can be accomplished with either a single hand rod or a two-handed rod.
Two-Handed casting is dominated by either modern Short Spey rods (13' and under); or, even shorter Switch rods (11'-9" and under). More recently, Trout Spey rods have entered the market in sizes #2, #3, and #4. These are ideal trout rods allowing you to cover more water with less effort. Casts like the Snap-T, Double Spey, and the Snake Roll can help you when casting in tight situations with trees or bushes right behind you. Spey classes initially involve some dry land instruction.
Even more recently, a form of casting called Micro Skagit Casting, pioneered by fly line designers and experts, Ed Ward and Jerry French, has been introduced for the Trout and Smallmouth world using both Single Hand rods and Two-Handed Switch rods. The company that is bringing us this new technology is Olympic Peninsula Skagit Tactics (OPST). Now, even small Trout and Smallmouth streams can be easily fished with a lot less effort. This capability uses the Commando line system. Similar set ups can take place with Rio and Airflo products; but, OPST set ups can be implemented even on very short single hand rods (7'-6" feet +) and two-handed Trout Speys.
Spey Casting Instruction takes place any time during the year, weather permitting (not offered during the Summer months in GA; but, is available in the Finger Lakes Region of Upstate New York during the Summer months).
Boots, waders, a wading belt, and polarized sunglasses are required and must be provided by the participant.  A Georgia fishing license is also required. On-water practice is key to mastering all Two Handed Casting techniques.