YES, Go Commando!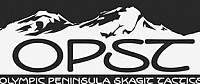 Take a look at OPST
Yeah, Yeah, Yeah! It's not what you might think...
Go Commando refers to a whole new style of fly fishing based on the unique product offerings by OPST (Olympic Peninsula Skagit Tactics). The company was founded on outfitting, teaching and expanding the world of Skagit. Their roots are in steelhead fishing, but by applying the same Skagit casting principles that were invented for steelhead, they have brought Skagit casting into the world of trout, bass, and other species.
Using their products, OPST can outfit anglers to be extremely successful fishing single hand rods "Micro Skagit" style on rods as light as a 7'-6", 3 weight. In addition to Commando SMOOTH lines and Skagit Heads, they produce and market sink tips, hooks, leader, fly tying materials and accessories to outfit Skagit-minded anglers from the US, Japan, Europe, Russia, New Zealand, South America and a growing list of countries all over the world. Their team of experts and product designers consist of founders Ed Ward, James Iwase and Yassy Nakano; plus, Benjamin Paull who came in later as a full partner to round out the team.
What it REALLY means to Go Commando!


The Spey-style fly fishing movement is under way which is being driven by fly line designers and expert Skagit-style casters Ed Ward and the rest of the team at OPST (Olympic Peninsula Skagit Tactics). The movement focuses on using line set-ups that incorporate very short heads on rods as light as 3-weight to deliver sub-surface flies for small stream fishing. Flies from soft hackles all the way up to chunky patterns can easily be delivered. Though more distant presentations can be achieved, a 25 foot cast is also a fishing cast.
OPST Commando SMOOTH lines and Commando heads can be used on Single Hand fly rods. The Commando line system can be used on very small streams all the way up to larger rivers like the Chattahoochee that runs through Atlanta, Georgia. The system opens up a whole new world of fishing opportunities using significantly less casting effort to achieve fly presentations that were previously very difficult to perform.
Setting up your new 3-weight Trout Spey rod? The Commando line system really comes to life. The small weight rod category is what the Commando line system was designed to address. However, the Commando SMOOTH lines and Commando heads can be applied to all size modern single hand rods or two-handed Switch fly rods.
The casting style to fully utilize the system is Skagit but overhead single hand casting is also fully supported. Skagit-style casting, even using your single hand rod, more fully enhances your overall ability to fish more on-stream situations. This style also utilizes less casting effort even if you are backed up to close bushes behind you, to achieve your fly presentation goals.
What if a hatch develops while you are out on the water? The Commando line system is not designed to softly deliver delicate size 20 dry flies upstream. Nor are single hand 7-weight and greater fly rods! However, by replacing your sink tip with a Polyleader, you can throw large dry flies.
Alternately, you can remove your entire reel, housing your  Commando line system, and replace it with a dry fly reel with the appropriate fly line and go to town. Yet another method is to carry an extra spool with you that is equipped with a weight forward floating fly line. Every on-stream fishing situation can be different on any given day so plan accordingly.
Fishing from a drift boat, single-man pontoon boat, or even a float tube? The Commando SMOOTH line, with appropriate fly casting skills, can effortlessly work for you... all day long. Single hand rod or two-handed rod, the choice is yours.
The Commando line system from OPST is the way to do it!